The Squat Jump Test Type can be customized by creating & applying a "Tag". Below you can find common SJ tags. No tag on the system typically implies "hands on hip".
Bilateral SJ
Hands on Hips
Arm Swing
Loaded Conditions
Static Start Pushup (Upper)
Force-Velocity Profiling
Turn the sound on in order to hear a detailed list of instructions and proper cueing for the Squat Jump.
Side View Squat Jump Hands on Hips
It's important that the athlete stands in the squat position holding before the test is initiated. Once the test begins, the athlete should perform the test by initiating a concentric contraction only, with as little "dip" or unweighting as possible (e.g. rocket jump). If the athlete unweights excessively, the test will fail. We suggest using an athlete self-selected depth, similar to that of the lowest position in the countermovement jump. You may prefer that the athlete starts at 90 degrees knee flexion, which is also acceptable. Whichever you choose just be consistent.
Front View Squat Jump Hands on Hips
A failed test, while potentially frustrating, is still a data point for the coach. In order to execute the test correctly, the athlete must possess sufficient isometric strength to hold in the squat position, and activate their muscles in such a manner than no unweighting occurs - this task can be learned and improved upon after some practice. (This video displays an early version of the Hawkin Dynamics software, since updated)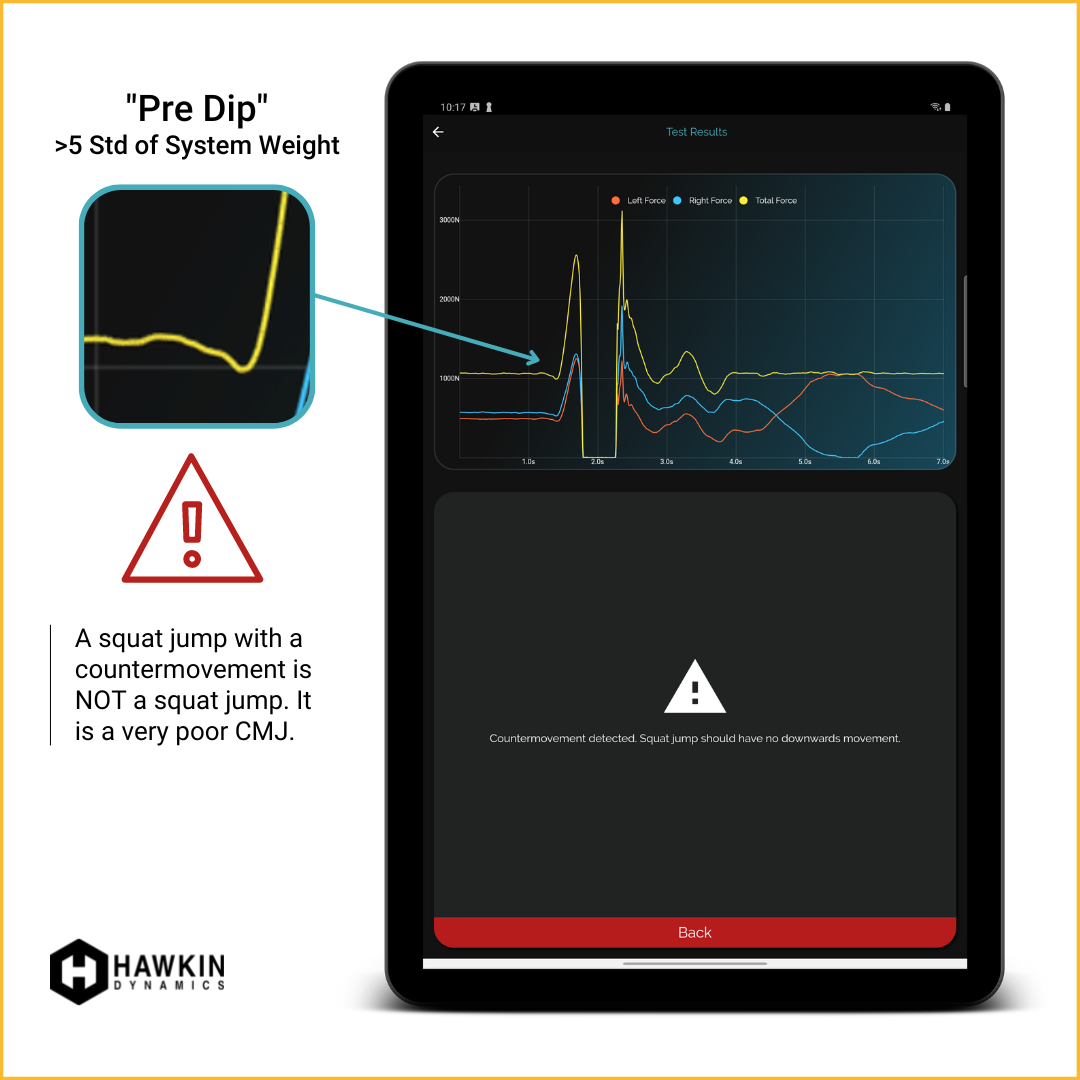 Failed Squat Jump View
If the athlete dips down prior to the start of the squat jump initiation, the software will fail the attempt. Return to the testing screen and repeat the attempt until completed successfully.
What It Means:
A failed squat jump is a datapoint in itself
Take a mental note if the athlete cannot successfully complete a squat jump
An athlete that cannot complete a squat jump is an athlete that relies heavily on the use of the stretch shortening cycle.
Bi-Monthly directly to your inbox...
Get the Hawkin Dynamics

Newsletter

every two weeks with updated on features, research, and insight into the latest sport science.